Is BDSM becoming a mainstream/majority practice? Thanks to Dr. Justin Lehmiller for his blog article, which supports the idea of a convergence or merger into a new hybrid of sexual behavior.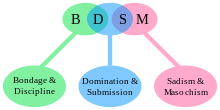 Monogamous, Monogamish, Poly
I've previously addressed the idea that there can be a dialogue and development of relational practices between monogamous, "monogamish" and polyamorous people. If we can digest and excrete "regressive-competitive" attitudes, people can develop their relationships and themselves more dynamically.
Vanilla-Kink-BDSM
We may want the clarity of bright lines between "vanilla", and "kink" like BDSM. I would argue that our digitally-driven social blender will evolve sexuality into an endless variety of practices and relational structures,
Jealousy Skills
The management of jealousy is one of the primary skill groups that people will need to handle the most typical tensions and problems. (UPDATE: if you are reading this post and are curious about jealousy, please check out this more recent blog post for a review of jealousy in its many forms, with helpful therapy tips!)