About Robert Odell, LICSW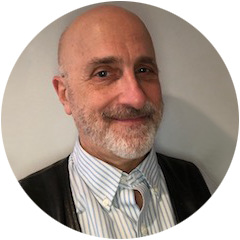 As of 2023, I have been a licensed psychotherapist in Seattle for 24 years.  I earned my Master's degree in Social Work in 1994. (Further detail in the intake form's disclosure statement.) My professional bio is here.
I am a member of the Clinical Social Work Association, the Society for the Scientific Study of Sexuality and the National Coalition for Sexual Freedom.
I'm an Eastern European lineage American, cisgendered, monogamish heterosexual, raised with middle class privilege in New York City, which provided daily physical contact with diverse people for 28 years. I've purposely lived and practiced in places and settings that expanded my understanding of people from different origins and cultures.
I disclose the personal information here that I believe is relevant for clients to know:
Parental lineages in Romania & Ukraine, both Jewish. Holocaust destroyed paternal line
Trauma history: Witnessed suicide at 9, fatal accident at 32. Sexually molested (10), assaulted at 18 (unreported);
Personal mental healthcare: Individual or relationship therapy client, mid-20s to mid-50s
Grief & caregiving: Father (Alzheimer's-type dementia); mother (7 yrs. distant caregiving & management); late older brother (bipolar disorder)
Relational: History of serial monogamy and ENM; currently married
Parent: One adult daughter
Kink: community active (including research, educational services)